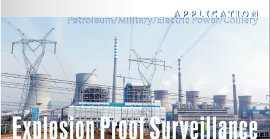 New Tech of intelligent analysis functions on Explosion Proof Cameras
In the rapid development of science and technology, after the explosion-proof camera 5MP 30X new technology, now we have updated technology to achieve a comprehensive intelligent explosion protection system.
Intrusion detection ; Fold line detection ;Crossing the line detection 
These three intelligence analysis capabilities will be applied to surveillance explosion proof cctv camera. Better monitoring of high-risk area.
We supply the security system for  Hazardous area , such as : Offshore , Oil&Gas Area,Gas station, Army, Magazine,Drilling, Gas tank truck,Mine, Chemical Plant, polydisperse granular gases environment, high temperature environment ,driiling rig etc .