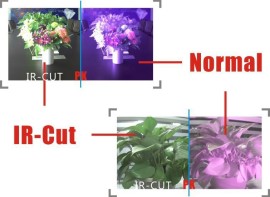 IRCUT composition principle:
IRCUT composed by two layers filters , one infrared cut filter and one all through fliter.
Infrared cut filter work at daytime,and the all through fliter work at night.Because during daytime,the sensor of camera can receive the infrared which we can't find.And the image of camera will be different with the real scenes.So we need a Infrared cut filter to absorb the infrared,to get a real color.And use the all through fliter at night ,so  night vision  can work well.If without IRCUT,the image of daytime can't get the real color,but don't have effect for night vision.
 IR CUT switch mode:
IR CUT will switch by the control of IR led,when the IR led is not working,the IRCUT will change to the Infrared cut filter mode,and if IR is working,the IRCUT will change to all through fliter mode.If with the IRCUT,but still have a color problem with daytime,need to check if the cable for IRCUT is connect wrong.
Such as Bullet IP Camera / Ambarella AX-A200WA-IP,with IRCUT,have a good quality in daytime image,and night vision also very good.Work with 66pcs φ5 led,IR distance can reach 50-60M.