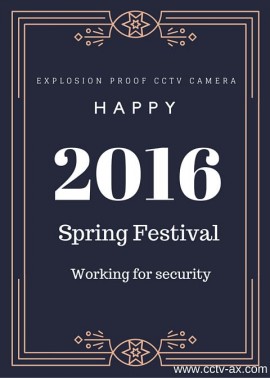 2016 Spring Festival
Spring Festival is a traditional Chinese festival holidays a year which is the longest.
Family reunion, prepare New Year, reunion dinner, watching the show.
New Year! New Challenges! New Chance!
In 2016, These camera will be fashional:explosion proof cameras , motorized auto focus 4X cameras , 60fps cameras , auto License plate recognition analysis camera and intelligent analysis IP cameras.
If common AHD/CVI/TVI Cameras , we will do three in one cameras ( AHD/CVI/TVI cameras three in one , and can compatible with any CVI or TVI or AHD DVR ) .
And for common AHD DVR , we will do the four in one DVR ( AHD,CVI,IP,ANALOG)
About Us New Year holiday, have a certain impact on foreign buyers, whether they are doing the corresponding product inventory it? Some projects need to prepare good material waiting to carry out the project.
No worries, if you need any support from us, we are still here before the holiday!